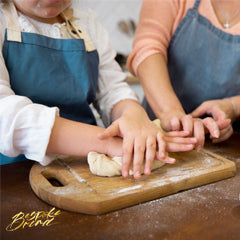 How Our Breadmaking Course Makes You Great in Bread
Want to try baking bread at home but you're worried about burning down your kitchen? Consider signing up for a breadmaking course; it can equip you with skills and knowledge you need to become a flourishing baker, as well as reward you with a delicious outcome. Read on to find out how a breadmaking course can make you well-versed in bread.


Love eating bread but never tried your hand at baking them yourself? Why not start now? If you're worried about burning down your kitchen when baking a loaf from scratch, consider signing up for a breadmaking course; it can help you knead your skills to become a flourishing baker and reward you with a delicious outcome. 

Learn More: 5 Benefits of Baking—Why You Should Start Baking Too

From the basics of mixing and shaping to the intricacies of fermentation and scoring, there's a whole world of breadmaking knowledge waiting for you to learn. So, get b-ready to find out more about how a breadmaking course can make you well-versed in bread. 

1. Learn to mix and work with preferments

Preferments, also known as starters, help in improving bread flavour and texture. They are the bread and butter of many bread recipes like sourdough, ciabatta, and focaccia. However, it is a bit of a crusty subject for many beginner bakers because preferments need to be carefully cultivated with the right ratio of flour, water, and leavening agent.

That's where a breadmaking course can come in handy. You'll learn all about making preferments, the science behind them, and be guided through the process of mixing and using them. Then, when you've understood the basics, you'll be able to add your own twist to your preferments to produce different types of bread.

2. The science behind how each bread is made

Understanding the science behind how each bread is made is key to taking your baking skills to the next level, and signing up for a breadmaking course is your perfect recipe for success. You'll learn the details of each ingredient and how they affect the dough, the secret to achieving that perfect rise and flavour, as well as how to troubleshoot any mistakes or issues that may arise during your baking. 

3. How to tweak recipes




Knowing how to tweak the amount of ingredients in a bread recipe lets you create a variety of breads with distinct flavours and textures, to cater for different tastes and dietary needs. While this is a straightforward process for experienced bakers, beginners may find it challenging. That's why a breadmaking course can be helpful; it'll teach you how to adjust your recipe by swapping out ingredients (e.g. switching regular flour to gluten-free flour), or tweaking the amount of ingredients to produce the perfect texture and flavour. For example, adding a little more water results in a softer bread. 

4. Dough handling and shaping




When it comes to breadmaking, the texture and structure of your bread depends on the way you handle and shape your dough—it can be the difference between a crumbly mess and an exquisite work of art. For dough handling, it is important to be gentle with your dough so that it doesn't turn out tough and chewy. On top of that, you want to ensure that you shape your dough well to produce a beautifully-shaped loaf. If you're new to kneading and shaping, fret not! These techniques will usually be taught to you at a breadmaking course to equip you with the right knowledge and skills necessary to make a perfect loaf of bread.

Breadmaking is science as much as it is an art, and it is a skill that can be learned if you're willing to roll up your sleeves and get your hands dirty.

Interested in learning how to make bread? Get started with Bespoke Bread's sourdough baking class in Singapore, where you'll learn everything you need to know about making a loaf of sourdough bread.