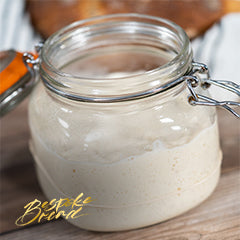 4 Dough-Able Ways To Put Your Leftover Sourdough Starter To Good Use


Successfully made your own sourdough breads and have leftover starter now? Roll up your sleeves because it's time to make more goodies with these discards!

Learn More: How to Make Your Own Sourdough Starter

Starter discards are tangy treasures that shouldn't go to waste because they can be used to make a variety of other delicious food you'll love. Whether you have a pinch or a pound of discards, we've got the perfect recipes to make full use of this amazing ingredient. Check them out!

1. Mix with pancake or waffle batter for sourdough pancakes and waffles



Are you tired of plain ol' pancakes? Give them a tangy twist and add more nutritional benefits by mixing a dollop of your starter discards to the batter. The starter's healthy bacteria and bubbliness will lend your pancakes an airy lightness to help it rise higher, make it slightly chewier, and give it a fluffier texture.

Ingredients You'll Need

100g plain or bread Flour

100g sourdough starter discard

150g milk

10g white vinegar

40g melted butter

50g large egg

12g sugar

¼ tsp salt

½ tsp baking soda

1 tsp vanilla essence


Step 1: Combine the flour, discard, milk, and vinegar, creating a sponge. Allow the sponge to rise at room temperature for three to four hours. 

Step 2: When the sponge has grown bubbly, add melted butter, egg, sugar, salt, baking soda, and vanilla essence. Mix well.

Step 3: Pour batter into a waffle iron or non-stick pan for pancakes. 

Step 4: Serve hot with your favourite toppings and syrup. 

2. Mix with pizza dough for sourdough pizza crusts




Incorporating starter discard into your pizza dough is a sure way to turn your pizza night into a doughlightful experience. It will give your pizza an extra depth and create a crust that's simultaneously crispy and chewy.

Ingredients You'll Need

460g strong bread flour

13.8g salt

322g water

23g sourdough starter discard
Step 1: Briefly mix water and flour in a large mixing bowl, ensuring that all the flour is hydrated. Cover and leave it to autolyse. 

Step 2: Add your discard to the autolyse, then knead them together until well combined. Cover your dough.

Step 3: Leave the dough to bulk ferment until it has increased 10% in volume. 

Step 4: Divide the dough into 270g portions. Stop them in an air-tight container and place them in the fridge for cold retardation. 

Step 5: When you're ready to make your pizza, take the dough balls out of the refrigeration and allow them to proof for three to four hours before making your pizza.

3. Mix with scones to make sourdough scones




Scones can become downright irresistible with a touch of sourdough in them. Incorporating your starter discard adds a pleasant tang and a lovely texture that will make your scones the stars of your tea session.

Ingredients You'll Need

200g self-raising flour

50g unsalted butter, cold and cubed

50g caster sugar

100g starter discard

60ml milk

1 tsp vanilla extract

A pinch of salt

Jam

Clotted Cream


Step 1: Preheat the oven to 200℃ and line a baking tray with parchment paper

Step 2: Combine the self-raising flour, cold cubed butter, caster sugar, and pinch of salt in a large mixing bowl. Use your fingertips or a pastry cutter to rub the butter into the flour until the mixture resembles coarse breadcrumbs. Make a well in the centre.

Step 3: In a separate bowl, mix together the starter discard, milk, and vanilla extract until all ingredients are well combined.

Step 4: Pour the starter mixture into the dry ingredients and stir with a wooden spoon until a sticky dough forms.

Step 5: Transfer the dough onto a lightly floured surface and gently knead it until it comes together. Do not overwork the dough as the scone can become tough.

Step 6: Pat the dough into a 2cm thick round shape. And use a cookie cutter to cut out scones from the dough. Place the scones onto the prepared baking tray and bake in for 12 to 15 minutes or until they are golden brown on top.

4. Make sourdough cinnamon buns




Add your starter discards into your cinnamon bun recipes to add a hint of tanginess to the sweet treat.

Ingredients You'll Need

For the dough: 
310g bread flour

140g starter discard

110g cold milk

110g cold eggs

30g caster sugar

8g fine salt

40g cold butter
For the filling:
75g unsalted butter, softened

75g light brown sugar

1½ tbsp ground cinnamon
For the icing:
150g icing sugar

2-3 tbsps milk

½ tsp vanilla extract


Step 1: Combine the flour, caster sugar, and salt in a large mixing bowl. 

Step 2: In a separate bowl, whisk together the starter discard, cold milk, cold butter, and egg.

Step 3: Combine the wet and dry ingredients and stir until a rough dough forms.

Step 4: Transfer the dough onto a floured surface and knead for about five to seven minutes until it becomes smooth and elastic. Then, place the dough back into the mixing bowl, cover with a damp cloth and let it rise at room temperature for one to two hours, or until it has doubled in size. 

Step 5: Mix together the filling ingredients until well combined. 

Step 6: Once the dough has risen, punch it down to release the air. Roll it out on a floured surface into a rectangular shape, about 0.5cm thick.

Step 7: Spread the filling evenly over the rolled-out dough. Then tightly roll the dough up into a log shape. 

Step 8: Use a sharp knife to cut the log into slices about 2cm thick. 

Step 9: Place the cinnamon bun onto a greased baking tray, leaving a little space between each bun. Cover with a damp cloth and let the buns rise for another 30 to 45 minutes.

Step 10: Bake them in an oven preheated to 180°C for 20 to 25 minutes, or until they turn golden brown. 

Step 11: Mix the icing ingredients together while you wait for the buns to cool down a little . Then, drizzle the icing over the cinnamon buns.


Now that you've discovered these delicious ways to put your starter discard to good use, it's time to let your discard shine. 

Want to make your own starter or sourdough breads but not sure how to do it? Grab a sourdough starter kit from Bespoke Bread or sign up for our baking class in Singapore to learn new ways to put your discard to good use!